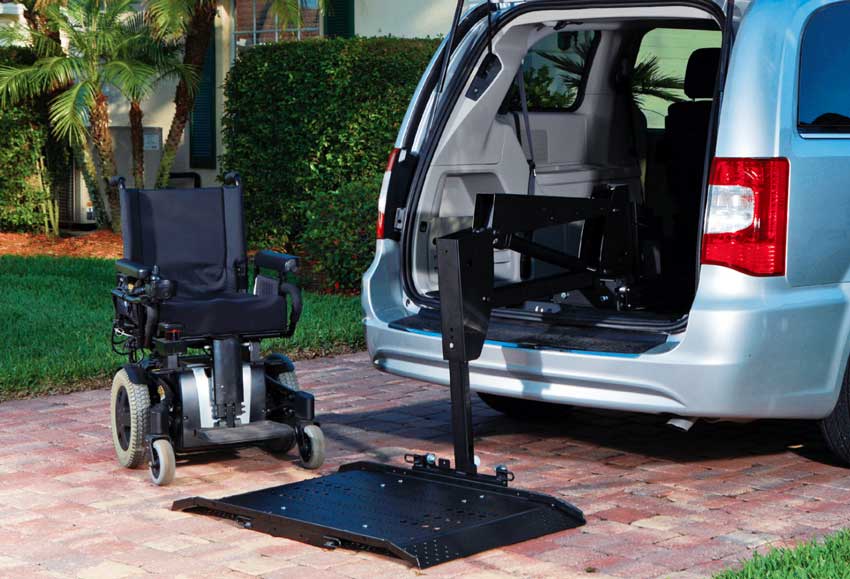 How a vehicle lift can help you with your next adventure!
One of the best parts of a mobility scooter or powerchair is the increased independence it gives owners, including the ability to continue to maintain a lifestyle of moving around out and about.
Along with that, for most, an obstacle that can arise as it relates is getting your scooter or powerchair from your home to the place you want to visit and explore — and back home.
After all, while our scooter and powerchair products make navigating your home simpler, you will often get the most fulfilling and rewarding use out of them out in the wide world. With that you need to be able to transport them wherever you want to go.
Tri-State Mobility offers several different types of vehicle lifts, each of which has our professionally training team work to fit your needs during the installation.
Here is a breakdown of what makes some of these styles unique and helpful:
Outside lifts
An outside lift is attached to your vehicle by a hitch and carries your powerchair or scooter on the back. It saves space inside your vehicle by keeping your mobility device stowed out of the way when you aren't using it, and it only takes one switch to lift and secure it.
We offer Harmar outside lifts that fit any vehicle you may have from compact cars to heavy-duty models, with up to 400 pounds capacity.
Inside lifts
Inside lifts are mounted in your vehicle's cargo area with a hoist. It swings outside your car, truck, van or SUV to load and lift your powerchair or scooter into the vehicle.
Inside lifts fit most vehicles with cargo areas and can handle weights of up to 400 pounds. These help you keep your mobility device out of the elements as you travel, if you prefer.
Hybrid lifts
Hybrid lifts will be mounted in your vehicle's cargo area but can move out and down so your powerchair or scooter can be loaded onto the platform from the ground.
That means you can drive onto it for greater convenience, but also store it inside your minivan, van or SUV as you travel.
RV lifts
In it for the long haul? Take your mobility device anywhere four wheels will take you. The AL300RV, the only lift of its kind, is designed specifically for RVs and the rigorous travel that come with them, with heavy reinforcement.
Let us help you take your powerchair or scooter anywhere you want to go! A lift takes the independence and freedom a mobility device gives you and multiplies it exponentially. Learn more about the process and start a conversation with us here.