Your "go-to" for all
your mobility needs
Step Inside a Stiltz Homelift
With a Stiltz home elevator, you will enjoy every inch of your home — downstairs and upstairs!
Why renovate or move when there's no need? A Stiltz HomeLift is the safest, most convenient, most versatile way of getting between floors when stairs have become a challenge.
Look at our unique railing system, and you can tell right away why we're called "Stiltz"! The lift car travels on our unique space-saving rail system, which requires no load-bearing walls.
Plenty of location options!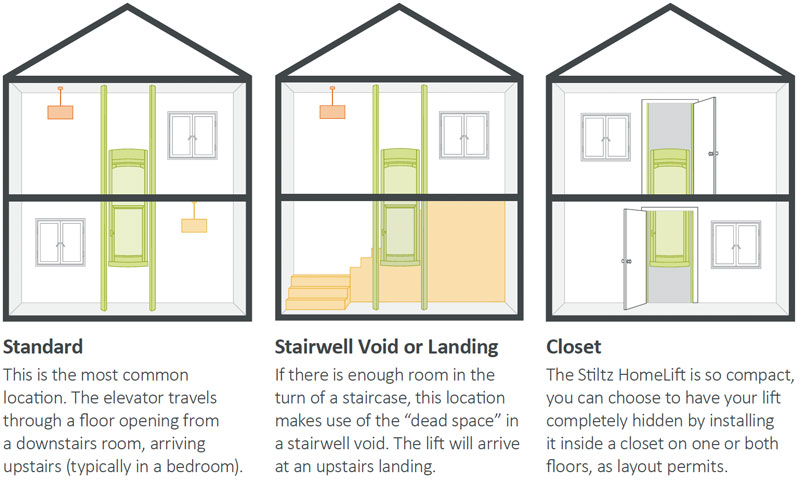 What's so special about a Stiltz HomeLift?
It's safe.
A battery backup lowers the lift in a power outage. Sensors stop the lift if something is in the way. And a phone is available in case of emergency.
It's versatile.
With different models and sizes, our elevators fit one to three people – or even a wheelchair.
It fits just about anywhere.
Install your lift through the floor, in a stairwell, or up to a landing. No supporting walls required.
It's quiet.
Our electric drive system is very quiet. No noisy hydraulics or vacuum systems are involved.
It's an extra pair of hands.
Comfortably and confidently move laundry, suitcases, vacuum cleaners – even the family pet.
Interested in an elevator/homelift system?
A homelift system may be the perfect solution for your mobility needs! Get in touch with Tri-State Mobility's industry experts today!
Tri-State Mobility

We look forward to hearing from you! Please feel free to reach us by any means made available in this section.
Contact us directly
ASHLAND OFFICE:
712 Winchester Ave., Ashland, KY
Send us a message
Just use the form on this page.