Your "go-to" for all
your mobility needs
Go-Go Travel Mobility Products offer one-hand feather-touch disassembly, for easy transport or storage, and superb maneuverability.
The compact size of Go-Go Travel Mobility Products allows for easy navigation of hallways and tight spaces, while also providing stable outdoor performance.
Take the guesswork out of travel with ultrasimple assembly, disassembly, and impressive performance. Go where you want to go, easily, with Go-Go!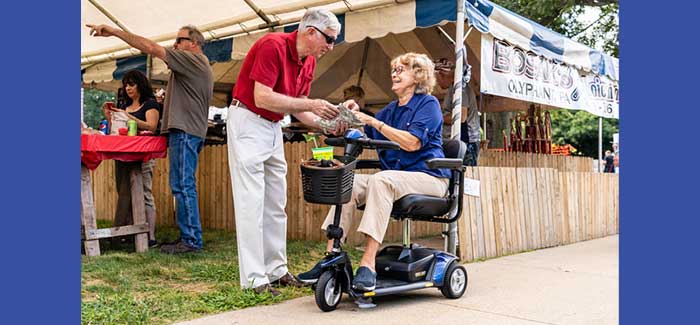 Powerchairs, sometimes referred to as Electric Wheelchairs, are ideal for people who have difficulties walking shorter distances. Tri-State Mobility offers a variety of powerchairs to suit your specific need and budget. Regain your independence and control; no more relying on others to help you maneuver through the house or to push your manual wheelchair on family trips. A safe and perfect alternative to scooters, a powerchair allows the user to freely get around the house without any problem. The tighter turning radius makes using a powerchair perfect for maneuvering between rooms in the house or around objects such as tables or other furniture.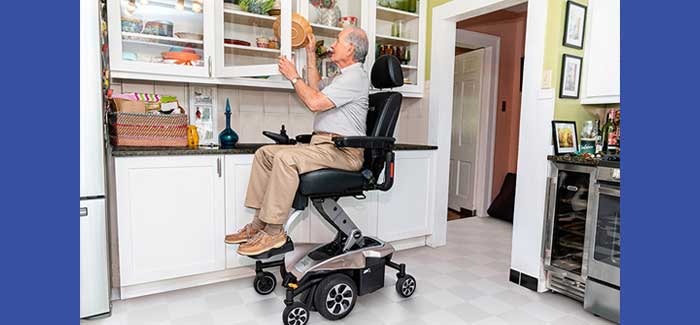 Don't let limited mobility keep you from exploring your world. Check out the Jazzy® Power Chairs line to find a travel power wheelchair that meets your travel needs. Whether you are riding the rails or cruising the seas, you need a travel power wheelchair that is lightweight and portable. The Jazzy® Passport electric wheelchair folds easily for compact stowage, while the Go Chair® motorized wheelchair disassembles into five pieces for convenient transport. Consider a Jazzy travel power wheelchair for your next adventure.
Lightweight Electric Wheelchairs
When you need a lightweight electric wheelchair, consider Jazzy® Power Chairs, designed to meet the needs of everyday people in the real world. Pride's lightweight electric wheelchairs are extremely portable and compact. Engineered for long-lasting durability, there is a Jazzy lightweight electric wheelchair for every person and lifestyle.
Heavy Duty Power Wheelchairs
No matter what your needs are, Jazzy® Power Chairs has an electric wheelchair to fit you. The lineup of Jazzy motorized wheelchairs includes heavy-duty power wheelchairs that are engineered for superior performance. The Jazzy® Elite HD electric wheelchair is equipped with front-wheel drive for outstanding indoor maneuvering, while the Jazzy® 614 HD motorized wheelchair features Active-Trac® ATX Suspension for outstanding handling over varied terrain. The Jazzy® 1450 power wheelchair is engineered for the bariatric market and offers heavy duty construction and performance components, including upgraded motors and a reinforced frame. Get superb indoor maneuvering with Pride's bariatric power wheelchairs. When you need reliability and durability, Jazzy heavy-duty power wheelchairs deliver!
Interested in a scooter or powerchair?
We'd love to have a conversation with you. Our contact information is below!
Tri-State Mobility

We look forward to hearing from you! Please feel free to reach us by any means made available in this section.
Contact us directly
ASHLAND OFFICE:
712 Winchester Ave., Ashland, KY
Send us a message
Just use the form on this page.