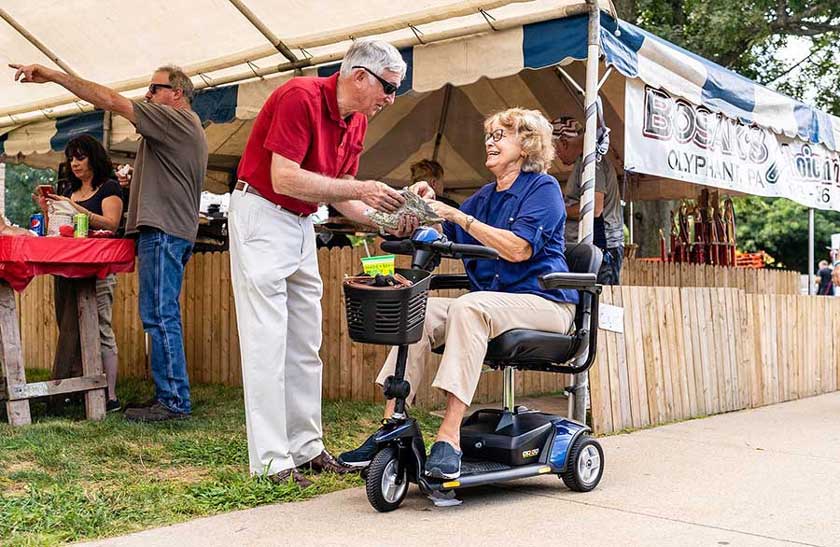 How scooters can help with your mobility needs and an independent lifestyle
Most seniors want to maintain an active lifestyle as long as possible — be that where they live, or how they live. Scooters can help seniors keep their mobility in a practical and safe way — and how better to retain one's independence than to be able to get where you're going, wherever and whenever you want?
At Tri-State Mobility we often hear from our customers that finally getting a scooter opened up a whole new world for them.
Here is a look at how our scooters can help you:
Ease of use
Tri-State Mobility scooters are simple to assemble, and all you need to get just about anywhere is a charged battery! We have products in stock such as the Go-Go Travel Mobility line known for one-hand disassembly, easy transport and storage and excellent maneuverability.
But it doesn't end there. We have a wide selection of model lines and designs and colors, allowing us to find the perfect and customized fit for you. Below, you can see a feature video of our Go Go LX line and you can find out more about what we have to offer here.
Stability and a safe ride
The engineering of our popular scooters provides enhancing stability for its drivers. Focusing on the outdoors, they operate great on different terrains and surface finishes, providing the proper traction and balance for a safe and enjoyable ride.
Injury prevention
The likelihood of injuries due to falls is radically decreased on a scooter as opposed to any sort of walking. The scooter can also get you moving sooner and more safely if you are already recovering from a pre-existing injury and make it less likely you will exacerbate the injury.
Increased speed
Having a scooter will help you keep up with whoever you're spending time with. No need for someone to push a wheelchair or slow to accommodate the more deliberate pace of a walker or a cane — and no more feeling like you're holding up the show.
Improve your lifestyle
Keeping up with the crowd is just one component of a happy lifestyle. Scooters can help you get around to places you may not have been able to before, or may not have even considered. Some of these include shopping malls, parks and other fun venues. You should enjoy time with family and friends and a scooter may be just what you need to do that.
Increased accessibility
Different scooters have different abilities, and we can help you find the one that best suits your lifestyle — from our Victory products with more ground clearance and a longer range per charge, to the Wrangler, specifically designed for the outdoors with suspension, shocks, tires and motors geared toward that end. We'll find the right fit for you!
The right scooter
Getting the right scooter is more than just picking the best price, it is matching the best scooter to what you are going to use it for and service after the sale that leads to the best outcome and satisfaction. It is best to avoid the cheap mail-order scooters.
Get in touch with us today and we'll be happy to talk you through your options and the process of finding your perfect scooter match!