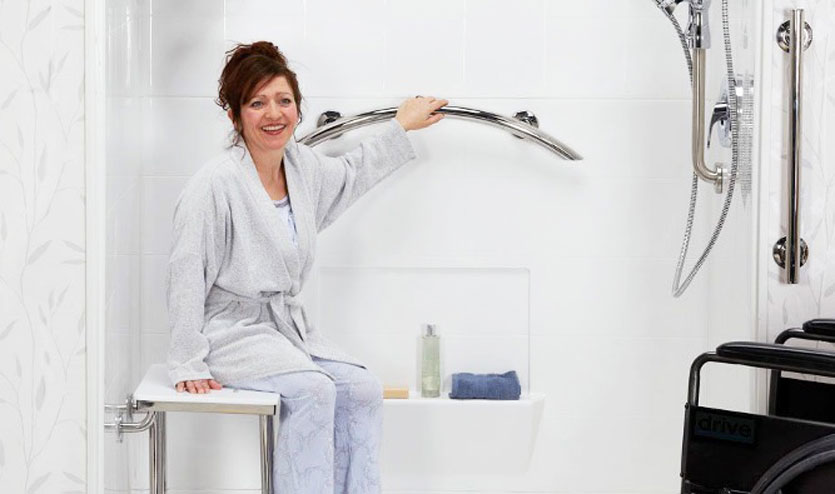 We have solutions when it comes to bathroom modifications
For those with mobility challenges, bathrooms intersect at a dangerous and unfortunate point: they can be among the least accessible rooms in most homes, especially older structures, and yet visiting the bathroom is at some points imperative and at others absolutely necessary.
There are few greater tests, after all, of one's independence.
Tri-State Mobility consults on, carries and installs products to make that process more achievable while maintaining freedom and privacy: barrier-free showers and walk-in tubs.
Here are some of the solutions we feature:
Barrier-Free Showers
Accessible showers are designed with a barrier-free entrance — that is to say, no curb to step or roll over — so they are more easily wheelchair or shower chair-accessible. The floor of the shower is at the same level (or a slight rise) as the bathroom floor, permitting easier entry for users with mobility challenges as well as versatility for all users.
Freedom Accessible Showers come packaged in multiple options depending on your bathroom situation. For those retrofitting or replacing an already existing shower or bathtub, accessible showers come in multiple pieces, which can be moved through the home easily one part at a time, then assembled and installed in your bathroom. Tri-State Mobility features shower stalls in many sizes to accommodate the layout of an existing bathroom.
If you are building a new home or simply adding on a new bathroom, accessible showers also come in one piece, for facilities that are easier to reach. These also come in differing sizes to meet your specific needs.
We also carry Freedom ADA shower stalls, ideal for commercial or public use. They are barrier-free and in compliance with ADA size specifications for wheelchair-accessible installation in places such as schools and businesses.
The Freedom Easy Step Walk-In Shower features a curb of 3 to 4 inches, simple to step over, and is luxurious and comfortable. And we feature CLEANCUT Tub Conversion products which transforms your existing bathtub into a step-in accessible unit without the cost or trouble of remodeling. It's skid-resistant, can be installed on any tub and is compatible with grab bars and shower seats.
Walk-In Tubs
We feature three types of walk-in tubs to best fill your specific needs: those with inward-swinging doors, outward-swinging doors and those that are wheelchair-accessible.
Inward-swinging-door tubs fit those who do not need extra room to get into walk-in bathtubs. They save space and work well in bathrooms with less square footage, and they self-seal thanks to water pressure pushing on the door.
Outward-swinging doors are ideal for bathers who need a little extra room or have mobility issues.
Wheelchair-accessible walk-in tubs work with L-shaped doors, and the seat height aligns with most wheelchairs to easily move onto the seat of the tub.