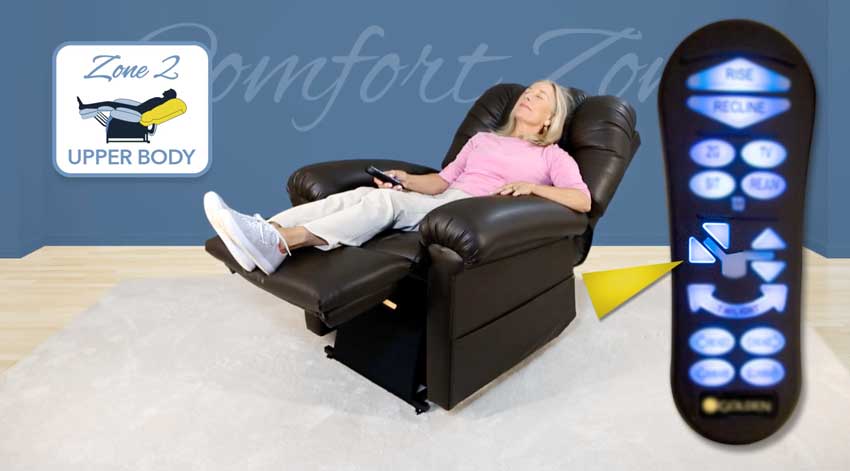 Golden's Twilight sleep recliners offer several positions to find the perfect angle for ultimate comfort and relaxation!
The right sleep chair will help you take a load off, and get back up and at it
Taking time to take a load off is so important The Band wrote and performed an enduring hit, "The Weight," referencing it. (Does "Take a load off, Fanny," ring a bell?)
But eventually, we all have to get up and get back to it, and for those with limited mobility, this can be a challenge.
If you or a loved one has had a knee or hip replacement, deals with arthritis or has partial paralysis due to a stroke, or are prone to falls due to age, standing to your feet from a sitting position isn't as easy as simply raising up off a chair or couch.
The solution to still accommodate the independence of mobility: the perfect sleep chair.
Sleep chairs are practical, affordable and stylish. They allow for sitting comfortably while also aiding in the process of standing up to go tackle the day's tasks.
Tri-State Mobility offers a comprehensive selection of sleep chairs to meet your every need. Here are a few types to help you deduce which one might be best for you:
Twilight Series by Golden
Golden's Twilight Technology provides a tilting motion that cradles your body allowing you to achieve extreme zero gravity, rejuvenate, and TV-watching positions while enjoying the world's finest power reclining experience.
Now complete with adjustable headrest and lumbar support, Golden's Twilight sleep recliners offer the greatest array of rejuvenating positions to find the perfect angle for ultimate comfort and relaxation.
You haven't known true comfort until you've tried a Twilight chair!
Infinite-Position
Infinite-position chairs recline nearly flat, like a bed, and some can even get back far enough to rest your feet above your heart, which is important for those with swelling in their legs or ankles.
These chairs run on two motors, one of which operates the chair and the other of which runs the footrest. They run independently with separate control buttons, which allows for an extremely wide range of positions — hence the name "infinite-position chair."
These are regarded as the best choice for those planning to spend long periods of time in a chair, because of their wide variety of potential positions.
Three-Position
Three-position sleep chairs fill the niche of being best for those who would like to remain semi-upright while seated. They run on a single motor, meaning the headrest and footrest work together in concert, with one control. If the back reclines, the leg rest will rise, and vice versa. These chairs do fully recline, as would a traditional recliner, but they do not lay flat, as does the infinite-position chair.
These are considered ideal for napping — again, in a semi-upright position. And three-position chairs can be positioned temporarily or permanently anywhere along the line from reclining to standing.
Heavy-Duty, Tall and Wide-Lift
The Comforter Wide Series offered by Tri-State Mobility (download brochure here) is composed of five models with wider seats, for those who need or want a little more wiggle room.
Weight capacities in this line are 375, 500 and 700 pounds, the highest of their kind. And the chairs are built with the highest quality components for consistent, reliable service.
Summary
Sleep chairs are a good tool to use to maintain independence and continue to be able to get up and down out of a comfortable chair. The benefit here is twofold: it prevents having to rely on others physically and in their time and presence in order to maneuver and manipulate a chair, and by doing so, it could also boost its user's mental well-being due to the feeling of independence and accomplishment.
Let Tri-State Mobility find the perfect sleep chair fit for you!